Radiological evaluation of placental invasion anomalies: single center data
Keywords:
Placenta previa; placenta accreta; obstetric hemorrhages; cesarean section; hysterectomy
Abstract
Placenta previa totalis refers to the placenta lying over the lower uterine segment and completely covering the internal cervical os. The aim of this study was to predict the complications that may develop in cases with placenta previa totalis and most importantly, to decrease maternal morbidity and mortality rates.
A total of 185 patients, who were diagnosed with placenta previa totalis in our clinic between January 2011 and December 2015 and underwent cesarean section, were included in the present study. Patients with placenta previa partialis, placenta previa marginalis, lower placenta pre-diagnosis, and placenta previa less than 24 weeks of gestation were excluded. Demographic data, gynecological and obstetric histories, type of surgical incision, placental adhesion anomalies, laboratory parameters, and blood transfusions of the patients were examined. Patients' type of application to our clinic, gestational week, birth weight, sex of the newborn, Apgar score of the first and fifth minutes, additional surgical interventions and complications developed were evaluated. The data were obtained using PROBEL Hospital Information Management System, which is the hospital electronic archive database.
It was observed that a total of 60039 babies were delivered (29894 vaginal deliveries, 30145 cesarean sections) in our hospital during the study period. The frequency of the five-year placental invasion anomaly was found to be six in 10000 births. There was a statistically significant increase in the number of previous cesarean sections and invasion formation (p<0.05).
Early diagnosis and adequate preoperative preparation are of great importance particularly in cases with placenta previa totalis who are thought to have an invasion. Patients should be referred to tertiary centers with high-quality blood bank unit, adult intensive care unit and neonatal intensive care unit, where a multidisciplinary approach can be offered. We believe that the elective operation of the cases is an important factor in reducing or preventing maternal morbidity and mortality.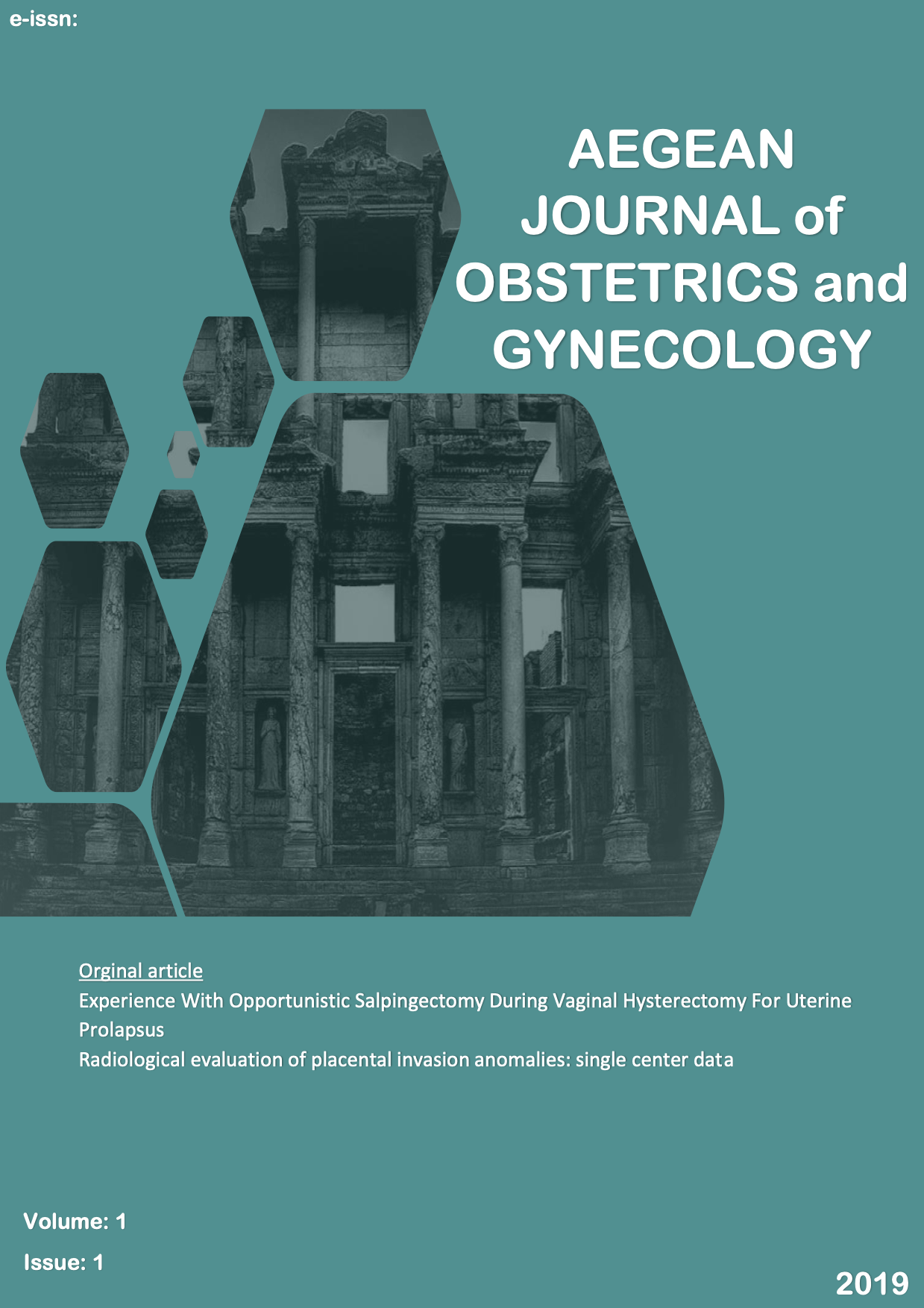 Downloads
How to Cite
1.
Tutar SO, Özeren M. Radiological evaluation of placental invasion anomalies: single center data . Aegean J Obstet Gynecol [Internet]. 2019 Dec. 30 [cited 2023 Dec. 1];1(1):13-6. Available from: https://www.aejog.com/index.php/aejog/article/view/7
License
AEJOG is an open-access journal which means that through the internet; freely accessible, readable, downloaded, copied, distributed, printed, scanned, linked to full texts, indexed, transferred to the software as data and used for any legal purpose, without financial, legal and technical obstacles. The only authority on reproduction and distribution and the sole copyright role in this field; has been given to authors therefore they can have control over the integrity of their work, so that they are properly recognized and cited. This is in accordance with the BOAI definition of open access.
The content in Aegean Journal of Obstetrics and Gynecology (AEJOG) is protected by copyright. All copyrights of the submitted articles are transferred to the Aegean Journal of Obstetrics and Gynecology within the national and international regulations at the beginning of the evaluation process. Upon submission of their article, authors are requested to complete an assignment of copyright release form. Authors should acknowledge that they will not submit their manuscript to another journal, publish in any other language, or allow a third party to use the article without the written consent of the Aegean Journal of Obstetrics and Gynecology. When an article is published on AEJOG, it is read and reused for free as soon as it is published under a Creative Commons Attribution-NonCommercial 4.0 (CC BY NC 4.0) license. In case the article is rejected, all copyrights are given back to the authors.
The content of the article and all legal proceedings against the journal, if any, are the responsibility of the author. In addition, all financial and legal liability for the copyright of the presented tables, figures and other visual materials protected by law belongs to the authors. It is the responsibility of the corresponding author to report authors scientific contributions and responsibilities regarding the article. In case of any conflict of interest, it is the responsibility of the authors to indicate the conflict of interest in the Disclosure part of the article. Author names will be published as they are listed on the submitted Title page.