Effective factors on inadequate results in endometrial biopsy with Pipelle
Inadequate results with Pipelle
Keywords:
Pipelle, Dilatation and curettage, Inadequate, Endometrium, Biopsy
Abstract
Objective: In this study, it was aimed to investigate the factors that may affect the pathological diagnosis in pipelle endometrial biopsies.
Material and Methods: Four hundred and twenty endometrial biopsies performed by the same specialist using pipelle were analyzed retrospectively in our outpatient clinic for eleven months. Endometrial samples which were made for diagnosis of ectopic pregnancy and patients who have history of cancer or needed anesthesia for the procedure were excluded from the study. Group 1 was created from 65 patients whose endometrial biopsy were resulted as insufficient endometrial biopsy and Group 2 was created with 173 patients who had sufficient material as a result of biopsy. The effect of demographic information, ultrasound data (presence and localization of leiomyoma, endometrial thickness) and biopsy indications were investigated.
Results: The average age of patients in Group 1 was found to be statistically significantly higher than Group 2, of 238 patients who were investigated retrospectively (p<0,001). Endometrial thickness in Group 1 was statistically lower than Group 2 (p<0,001). Endometrial biopsy indications were frequently observed as postmenopausal bleeding for Group 1 and abnormal uterine bleeding for Group 2.
Conclusion:  According to our opinion that it will be more appropriate to perform dilatation / curettage biopsy, instead of biopsy with pipelle if a need for endometrial sampling is required in older ages especially for the postmenopausal patient group.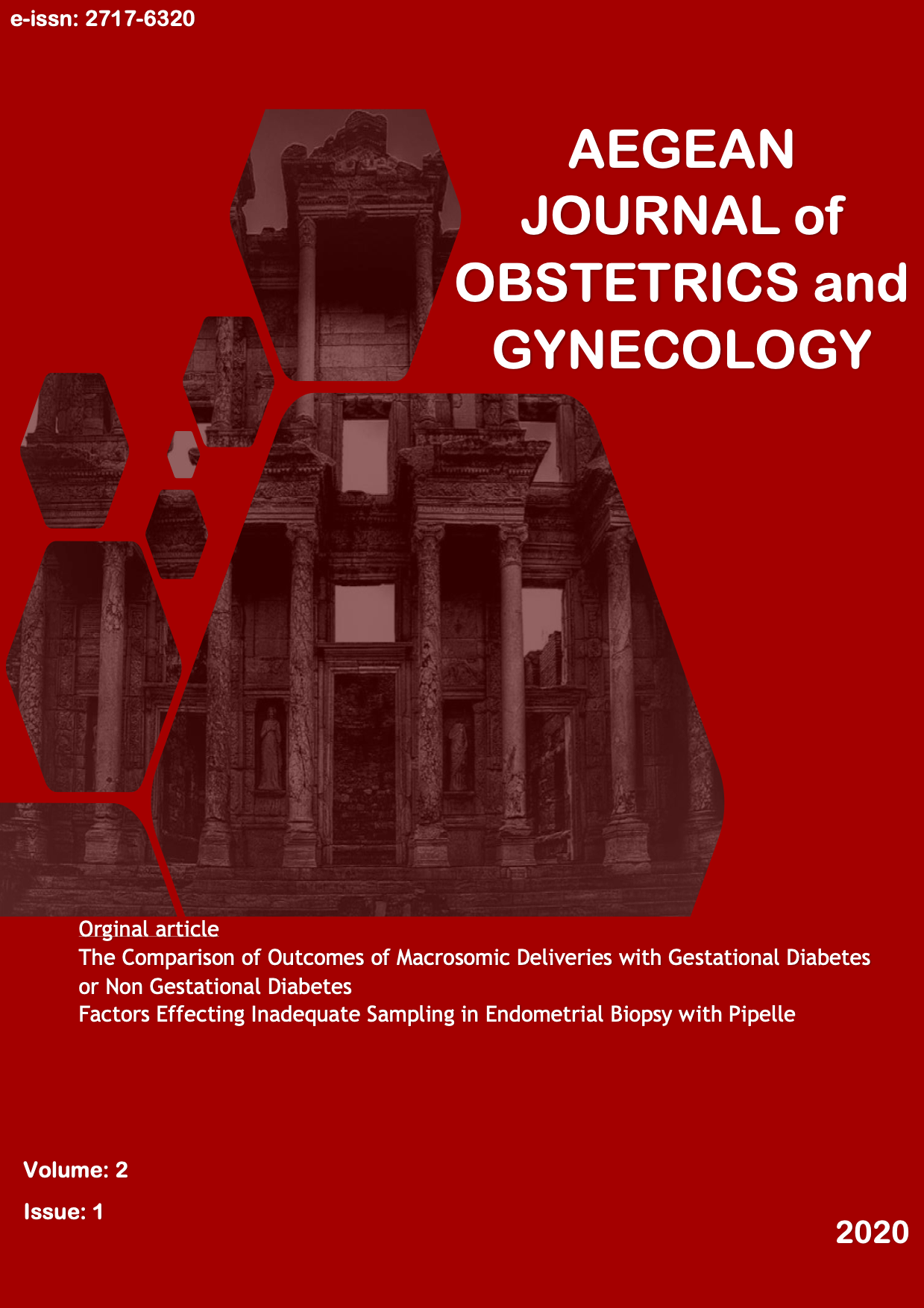 Downloads
How to Cite
1.
BAL Özge, Şenkaya AR, Balıkoğlu M, İnan AH. Effective factors on inadequate results in endometrial biopsy with Pipelle: Inadequate results with Pipelle. Aegean J Obstet Gynecol [Internet]. 2020 Apr. 21 [cited 2023 Sep. 27];2(1):9-11. Available from: https://www.aejog.com/index.php/aejog/article/view/31
License
Copyright (c) 2020 Aegean Journal of Obstetrics and Gynecology
This work is licensed under a Creative Commons Attribution-NonCommercial 4.0 International License.
AEJOG is an open-access journal which means that through the internet; freely accessible, readable, downloaded, copied, distributed, printed, scanned, linked to full texts, indexed, transferred to the software as data and used for any legal purpose, without financial, legal and technical obstacles. The only authority on reproduction and distribution and the sole copyright role in this field; has been given to authors therefore they can have control over the integrity of their work, so that they are properly recognized and cited. This is in accordance with the BOAI definition of open access.
The content in Aegean Journal of Obstetrics and Gynecology (AEJOG) is protected by copyright. All copyrights of the submitted articles are transferred to the Aegean Journal of Obstetrics and Gynecology within the national and international regulations at the beginning of the evaluation process. Upon submission of their article, authors are requested to complete an assignment of copyright release form. Authors should acknowledge that they will not submit their manuscript to another journal, publish in any other language, or allow a third party to use the article without the written consent of the Aegean Journal of Obstetrics and Gynecology. When an article is published on AEJOG, it is read and reused for free as soon as it is published under a Creative Commons Attribution-NonCommercial 4.0 (CC BY NC 4.0) license. In case the article is rejected, all copyrights are given back to the authors.
The content of the article and all legal proceedings against the journal, if any, are the responsibility of the author. In addition, all financial and legal liability for the copyright of the presented tables, figures and other visual materials protected by law belongs to the authors. It is the responsibility of the corresponding author to report authors scientific contributions and responsibilities regarding the article. In case of any conflict of interest, it is the responsibility of the authors to indicate the conflict of interest in the Disclosure part of the article. Author names will be published as they are listed on the submitted Title page.