The Distribution of Congenital Malformations in Adolescent Pregnancies: A Single Tertiary Center Experience in Turkey
Keywords:
Adolescent pregnancy, congenital malformation, infant
Abstract
Objective: Adolescent pregnancies are more severe and dangerous for both mother and baby than adult pregnancies. Low birth weight, infections, intrauterine growth restriction, sudden infant death syndrome, and death risk are higher in neonates of adolescent pregnant women. Besides, anomalies of central nervous, gastrointestinal, and musculoskeletal systems are also seen frequently. The purpose of this study is to investigate congenital malformations of infants born from adolescent mothers. In this study, malformations were grouped according to the systems.
Material and Methods: In this retrospective study, 166 pregnant women aged 18 and under who had fetal anomaly were included in the study and their charts reviewed. Descriptive information about the adolescents and information about the fetuses and anomalies were recorded. Maternal and neonatal characteristics were calculated as frequency and percentage.
Results: The most common anomalies were the central nervous (40.5%), cardiovascular (15.8%), and urinary (10.8%) system. The anomalies related to the skin and phalanges, including the face, accounted for 8.1% of the cases. Ventricular dilatation (10,4%), neural tube defect (7,2%), and hydrocephalus (7,2%) were the most common abnormalities of the central nervous system. Ventricular septal defect (5,9%), pulmonary artery anomaly (2,7%), and tricuspid valve anomaly (2,3%) were the most common cardiovascular system anomalies. Intrauterine growth restriction (3,6%), pleural effusion/hydrothorax (3,2%), pes equinovarus (2,7%), diaphragmatic hernia (2,3%), cystic hygroma (2,3%), oligohydramnios (2,3%), polyhydramnios (2,3%), and cleft palate/lip (2,3%) were the most common anomalies among the other system and organ anomalies.
Conclusion: Adolescent pregnancy was partially associated with an increased risk of severe neonatal anomalies especially in the central nervous, cardiovascular, and urinary systems. Pediatric health care providers should have a low threshold for suspecting pregnancy in adolescents.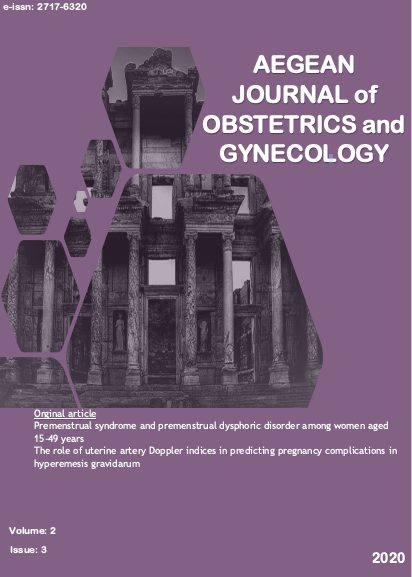 Downloads
How to Cite
1.
Behram M, Oğlak SC, Gedik Özköse Z, Süzen Çaypınar S, Başkıran Y, Sezer S, Bademkıran C, Özdemir İsmail. The Distribution of Congenital Malformations in Adolescent Pregnancies: A Single Tertiary Center Experience in Turkey . Aegean J Obstet Gynecol [Internet]. 2020 Nov. 20 [cited 2023 Dec. 1];2(3):58-62. Available from: https://www.aejog.com/index.php/aejog/article/view/60
License
Copyright (c) 2020 Mustafa Behram, Süleyman Cemil Oğlak, Zeynep Gedik Özköse, Sema Süzen Çaypınar, Yusuf Başkıran, Salim Sezer, Cihan Bademkıran, İsmail Özdemir
This work is licensed under a Creative Commons Attribution-NonCommercial 4.0 International License.
AEJOG is an open-access journal which means that through the internet; freely accessible, readable, downloaded, copied, distributed, printed, scanned, linked to full texts, indexed, transferred to the software as data and used for any legal purpose, without financial, legal and technical obstacles. The only authority on reproduction and distribution and the sole copyright role in this field; has been given to authors therefore they can have control over the integrity of their work, so that they are properly recognized and cited. This is in accordance with the BOAI definition of open access.
The content in Aegean Journal of Obstetrics and Gynecology (AEJOG) is protected by copyright. All copyrights of the submitted articles are transferred to the Aegean Journal of Obstetrics and Gynecology within the national and international regulations at the beginning of the evaluation process. Upon submission of their article, authors are requested to complete an assignment of copyright release form. Authors should acknowledge that they will not submit their manuscript to another journal, publish in any other language, or allow a third party to use the article without the written consent of the Aegean Journal of Obstetrics and Gynecology. When an article is published on AEJOG, it is read and reused for free as soon as it is published under a Creative Commons Attribution-NonCommercial 4.0 (CC BY NC 4.0) license. In case the article is rejected, all copyrights are given back to the authors.
The content of the article and all legal proceedings against the journal, if any, are the responsibility of the author. In addition, all financial and legal liability for the copyright of the presented tables, figures and other visual materials protected by law belongs to the authors. It is the responsibility of the corresponding author to report authors scientific contributions and responsibilities regarding the article. In case of any conflict of interest, it is the responsibility of the authors to indicate the conflict of interest in the Disclosure part of the article. Author names will be published as they are listed on the submitted Title page.