Uterus-sparing myomectomy for idiopathic uterine pyomyoma in a young woman: A case report
Keywords:
Pyomyoma, Leiomyoma, Uterine Myomectomy, Fertility Sparing
Abstract
Pyomyoma, or suppurative leiomyoma, is a rare but serious complication of uterine fibroids. The mechanism of pyomyoma is an infection caused by microorganisms coming from ascending or hematogenously on the ground of necrosis following ischemia and infarction. It can be seen during the course of pregnancy or after abortion and birth. It can also develop after uterine instrumentation or due to cervical stenosis. Patients often present with pain and fever. It should be considered in cases had no other etiology of fever and had a history of uterine fibroids. Diagnosis and treatment are often delayed due to non-specific presentation and imaging findings. This delay increases the risk of mortality and morbidity such as fertility loss. In the vast majority of these cases, total abdominal hysterectomy is required. The case we presented is a premenopausal and sexually inactive woman without any history of pregnancy or uterine instrumentation or immunocompromised. This patient is the 5th case of pyomyoma without risk factor and the 3rd case that was successfully treated with myomectomy. Knowing the proper treatment of pyomyoma will be beneficial to prevent potential mortality and morbidity.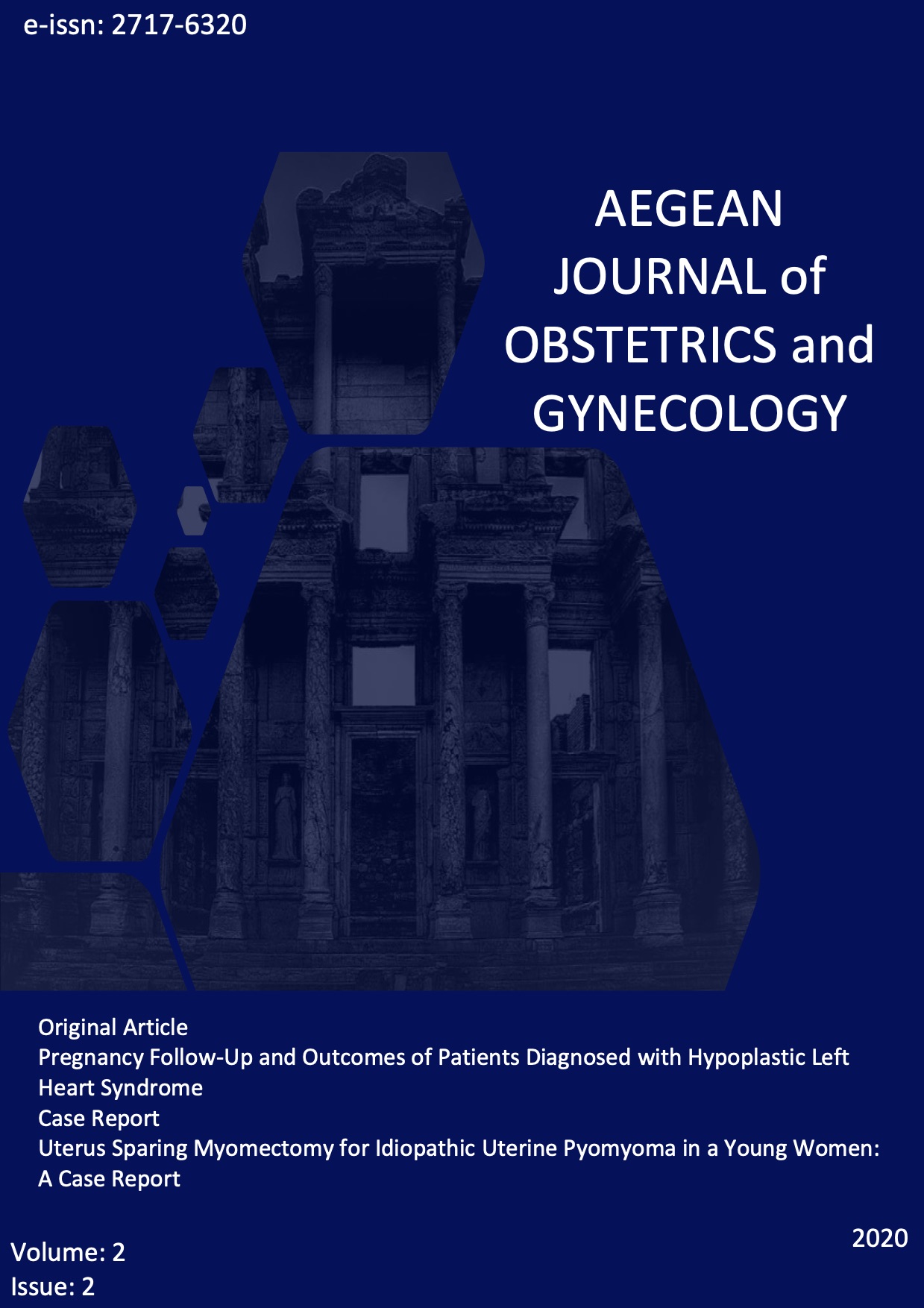 Downloads
How to Cite
1.
Sen U, Karadeniz T, Beyan E. Uterus-sparing myomectomy for idiopathic uterine pyomyoma in a young woman: A case report. Aegean J Obstet Gynecol [Internet]. 2020 Aug. 18 [cited 2023 Sep. 27];2(2):37-40. Available from: https://www.aejog.com/index.php/aejog/article/view/43
License
Copyright (c) 2020 Aegean Journal of Obstetrics and Gynecology
This work is licensed under a Creative Commons Attribution-NonCommercial 4.0 International License.
AEJOG is an open-access journal which means that through the internet; freely accessible, readable, downloaded, copied, distributed, printed, scanned, linked to full texts, indexed, transferred to the software as data and used for any legal purpose, without financial, legal and technical obstacles. The only authority on reproduction and distribution and the sole copyright role in this field; has been given to authors therefore they can have control over the integrity of their work, so that they are properly recognized and cited. This is in accordance with the BOAI definition of open access.
The content in Aegean Journal of Obstetrics and Gynecology (AEJOG) is protected by copyright. All copyrights of the submitted articles are transferred to the Aegean Journal of Obstetrics and Gynecology within the national and international regulations at the beginning of the evaluation process. Upon submission of their article, authors are requested to complete an assignment of copyright release form. Authors should acknowledge that they will not submit their manuscript to another journal, publish in any other language, or allow a third party to use the article without the written consent of the Aegean Journal of Obstetrics and Gynecology. When an article is published on AEJOG, it is read and reused for free as soon as it is published under a Creative Commons Attribution-NonCommercial 4.0 (CC BY NC 4.0) license. In case the article is rejected, all copyrights are given back to the authors.
The content of the article and all legal proceedings against the journal, if any, are the responsibility of the author. In addition, all financial and legal liability for the copyright of the presented tables, figures and other visual materials protected by law belongs to the authors. It is the responsibility of the corresponding author to report authors scientific contributions and responsibilities regarding the article. In case of any conflict of interest, it is the responsibility of the authors to indicate the conflict of interest in the Disclosure part of the article. Author names will be published as they are listed on the submitted Title page.